Biafra House Opens, Saturday, September 29, 2001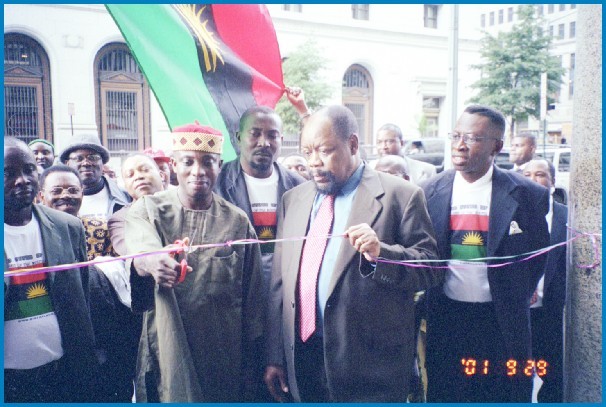 Saturday, September 29, 2001 will forever be remembered as an important milestone in the struggle of the Biafra people for self determination.
On this momentous day, in Washington DC, Biafra Foundation in association with the Movement for the Actualization of the Sovereign State of Biafra (MASSOB) officially commissioned the BIAFRA HOUSE.
The Biafra House, symbolically the home of Biafra in the United States, represents a needed official location in the United States from where the cause of Biafra will be vigorously pursued.
Essentially, Biafra House is about Biafran issues and interests in Nigeria, the USA and in the wider world.
On hand for the commissioning were MASSOB leader, Chief Ralph Uwazuruike, His Excellency Chukwuemeka Odumegwu Ojukwu, former Biafran Head of State, and his wife, Bianca ojukwu. Hundreds of Biafrans from all over the world were also in attendance.
Earlier on Friday, September 28, a well-attended symposia was held at the Howard University, Washington DC. Topics covered include:
(a) Nigeria's continuing genocide against Biafrans,
(b) Radical Islamism and the planned Islamization of Christian Biafra by Nigeria,
(c) The Case for Biafra,
(d) Conflict Resolution.
Biafra Foundation. 1717 K Street, Suite 600 . Washington , DC . 20036
PH: 202 508 3795 FAX 202 508 3759
E-mail: biafrafoundation@yahoo.com
[photo: Uwazurike cuts tape as Ojukwu holds on; other Biafrans flanking and in background during opening ceremony, Sept 29 2001]